ChefLee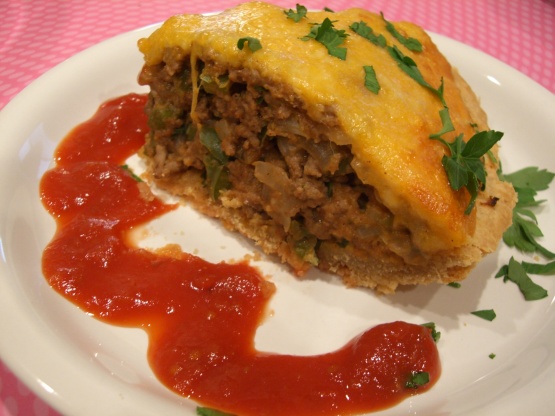 I make this when we are in the mood for something a "little different".

Wonderful, absolutely wonderful! I followed this almost to the tee - had to sub in green onions for the onions, as I had none on hand. The only change that I would add is to use a larger pastry crust if possible. I would have liked my "pie" to not be as full as it was. This was farely easy and tasted sooooooo good! I will be making this again very soon!
Cook ground beef, green pepper, and onion in a large skillet until meat is browned, stirring to crumble meat; drain.
Add 1/2 cup tomato sauce and next 5 ingredients, stirring well.
Spoon mixture into prepared crust.
Combine egg and next 4 ingredients, stirring well; spoon evenly over meat mixture.
Bake at 375 degrees for 30 minutes.
Combine remaining tomato sauce and chili sauce; serve with pie.