Boomette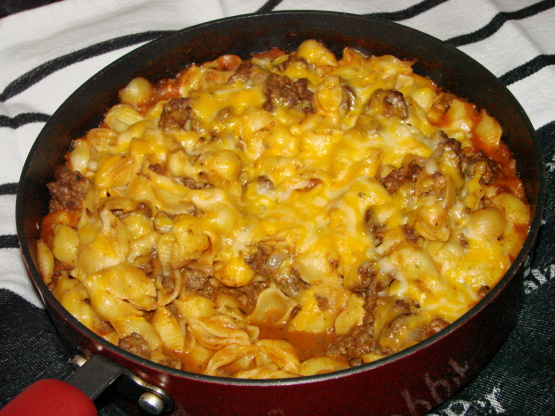 This is a great quick and easy recipe to throw together it makes a great mid week meal and the kids love it, it is also very inexpensive and becuase there is not much work to do. You can make it when you get home from work wothout the fuss. All in all it takes about 30 minutes from start to finish with this one .

Top Review by noway
Quick, easy weeknight meal, like you said! Good taste, although I would prefer a little more tomato flavor. I skipped adding water entirely and instead cooked the pasta until it was done, mixed everything together, and then baked for the recommended time to melt the cheese. It worked fine this way. Thanks for sharing!
Bring some water to boil in a large pan, add a little olive oil and cook pasta al dente, you do not want it to be to soft as there is extra cooking in the oven.
Brown beef in a pan, remove and wipe pan clean, heat a small amount of oil in pan add onion cook until onion softens.
Retuen beef to pan with soup, water, garlic, parsley, oregano and cheeses stir to combine and continuing stirring until all the cheese has melted. Stir in pasta.
Transfer mixture to an oven proof dish, sprinkle with parmesan and gruyere cheese. Bake in a 180°c oven until top browns about 8 Min's.
Serves 4-6 depending on appetites, it will keep a couple of days in the fridge so the leftovers make a good quick lunch you can reheat in the microwave.