CrystalA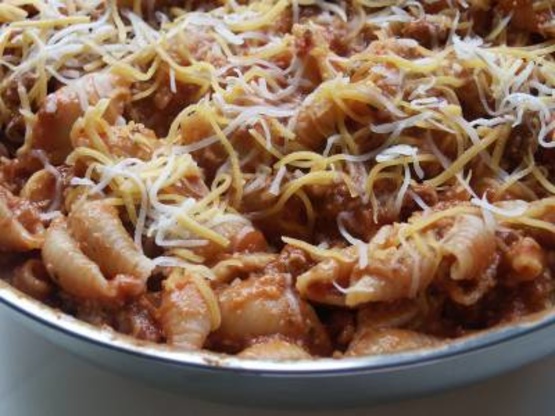 Kids loved it! I wasn't too strict with the recipe. I was out of minced onions and fresh onions, so I substituted chives instead. I probably used about 1.5 to 2lbs ground beef. As people have said before, I didn't have simply a 20oz. jar of tomato sauce, so I used the 26oz. jar that I had on hand. Unlike other posters, I did not scrimp on the water or the catsup. Instead of using just 4 cups of cooked tube pasta, I used a 16oz. box of rotini noodles. I also threw in a little basil with the other spices. It turned out great!
In dutch oven, heat oil, add onion and garlic, cook 1 minute.
Add ground beef, cook and stir 8 minutes.
Add next 7 ingredients, mix well.
Bring to a boil, boil for 3 minutes.
Add pasta, heat through.
Stir in 1 cup cheese.
Sprinkle with remaining cheese, cover and cook until cheese melts.