Chilicat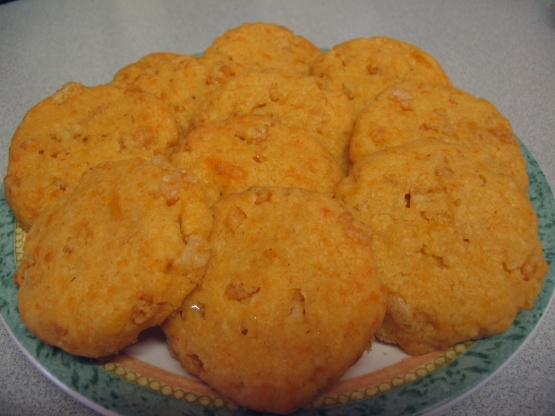 This recipe came from Lady Bird Johnson. I serve them each year on my Christmas Eve buffet. (They can be frozen.)

OMG...these are incredible!! So cheesy and with a nice little kick from the cayenne. I'll say that they're dangerous, 'cause I'm trying to lose weight, and they're so addictive I can't stay out of them. My recommendation, once the dough is mixed, is to use your clean hands to incorporate the cereal into the rest of the mix. That worked well for me. Yummmmm!!!
Preheat oven to 350.
Cut butter into flour.
Add cheese and seasonings.
Fold in cereal.
Drop by small spoonfuls on ungreased cookie sheets and flatten with back of spoon.
Bake for 10-15 minutes.
Don't let them get too brown!