Cheese Tortellini With Nutty Herb Sauce
katew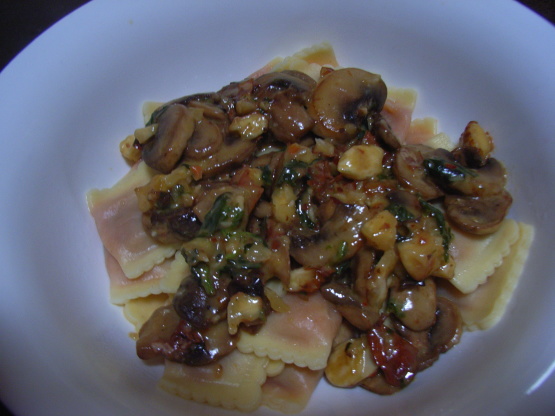 I enjoyed this as made as directed, but I intend to experiment by using blue cheese instead of the ricotta, and/or mascarpone. versatile recipe, I also didn't have walnuts so I used almonds, but walnuts might be the better choice. Feel free to experiment! Oh, I used a 400 gr packet of tortellini, that's what I had. Use the variety that suits you, I think a butternut-filled tortellini might be lovely with this. There's no garlic used, and I didn't add any this time, but hey, I like garlic! Next time, maybe! Finish off with a good grinding of black pepper. From "Kitchen Classics : The Italian Kitchen"
Add the pasta to a large pot of rapidly boiling water and cook until al dente.
Drain and return to the pot.
To make the sauce:.
Heat the butter in a heavy-based frying pan over medium heat until foaming. Add the walnuts and pine nuts and stir for 5 minutes, or until golden brown. Add the herbs and season. Remove from heat.
Beat the ricotta with the cream. Stir in the nuts and herb mixture.
Add the sauce to the pasta and toss to combine.
Serve immediately.