Cheese Tortellini Pesto Pasta Salad
Swirling F.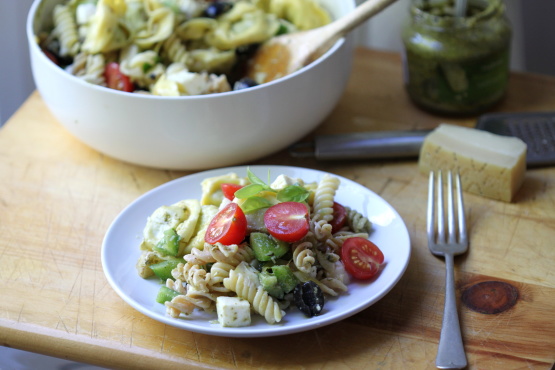 This is most definately my FAVORITE pasta salad in the world! I have been making it for years, but never wrote it down....well...thanks to Recipezaar I'm learning to "measure", LOL!!!! Very happy to share! This recipe is for a small crowd. If making just for your family, omit the rotini, and add only as much of the rest of the ingredients (about half) that you'd like. Don't worry, it's really simple and easy!

Outstanding and very versatile recipe. I thought the cubed mozzarella was unnecessary, there's already plenty of cheese in this dish from the tortellini and parmesan. Try adding oil-packed sundried tomatoes too. Delish!
1

(14 ounce) can artichoke hearts, drained, quartered

1

(10 ounce) cont. grape tomatoes, halved lengthwise

1

(6 ounce) canmedium black olives, drained, sliced in half lengthwise

1

green bell pepper, diced

1

(20 ounce) package cheese-filled egg tortellini, cooked al dente, drained (fresh or frozen)
1⁄3 cup olive oil, more if needed
1⁄4 cup parmesan cheese, the kind in the can

1

(8 ounce) jar basil pesto
1⁄2 teaspoon salt, more if needed

2

teaspoons minced garlic

12

ounces mozzarella cheese, cubed

8

ounces half of a 1 lb. box rotini pasta, cooked al dente, drained
Cook pastas, set aside to drain and cool a bit.
In large bowl or punch bowl, add rest of ingredients, folding gently til well mixed.
Gently fold in pastas well.
Adjust seasoning to taste, meaning, add more salt, parmesan, etc., til you like it.
Serve immediately, or refrigerate.
*If you make this say a day ahead of time, you'll need to "refresh" this. Just add a bit more olive oil, salt and parmesan before serving.
This salad is best, though, room temp, or even slightly warm.