Cheese-Topped Sweet Potato Casserole
Parsley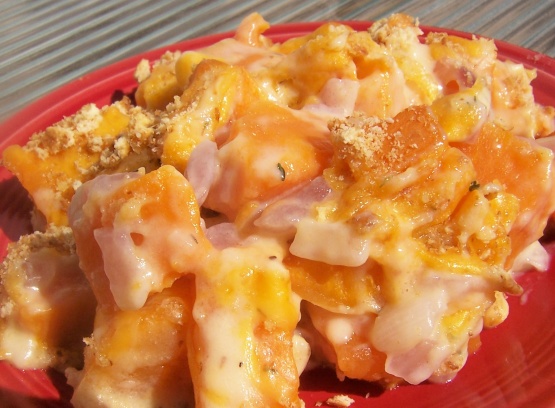 A sweet potato casserole that is savoury, not sweet, great with a nice schnitzel or steak, a nice change from normal potatoes.
This was a very nice way to prepare sweet potatoes. My DH loves sweet potatoes and I am always looking for ways to prepare them and this was great. Nice flavor and taste.
Combine sweet potato, onion, garlic & stock in a pan, cover & simmer until potato is tender, drain.
Placew sweet potato into a greased oven-proof dish.
Melt butter in a pan, stir in flour & stir over heat until bubbling.
Remove from heat and gradually stir in combined milk & extra stock.
Return to heat & stir until sauce boils & thickens, stir in thyme.
Pour sauce over sweet potato and top with breadcrumbs & cheese.
Bake at 180.C for approx 20 mins or until nicely browned.