JustJanS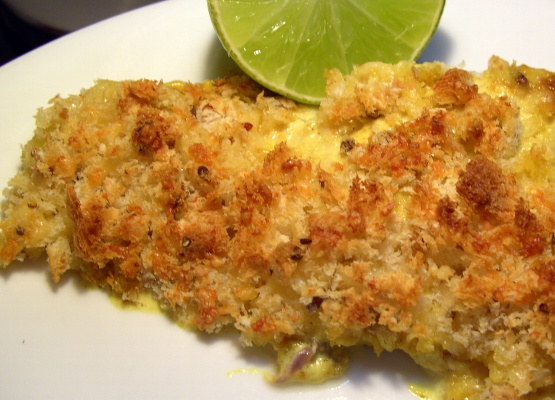 A simple way & interesting way to serve fish, I think this was originally a Kraft recipe.

I've made this a couple of times now, and although I feel the cooking times are a bit out-we cooked ours maybe 8 minutes under the foil, then added the topping and cooked on a further 5 minutes or so-it's more than worth 5 stars, It's a simple, delicous recipe that went straight into our repeatable fish recipes thanks Mandy!
Remove skin from fillets and arrange in a greased oven-proof dish, sprinkle with salt & spread with combined mayonnaise & curry powder.
Cover with foil & bake at 180.C for 25-30 mins or until tender.
Mix together cheese & crumbs, sprinkle over fillets, return to oven until lightly browned.