Prep 15 mins
Cook 10 mins

I found this on the web one day and can't remember the site. It was pre-Zaar days since this is the only site now for food!!!
Directions
Preheat oven to 350 degrees.
Finely chop the mushroom stems; combine with cheeses and parsley.
Spoon the mixture into mushroom caps.
Melt the butter and add the minced garlic.
Pour butter over mushrooms to coat all sides, which keeps them from drying out.
Bake on parchment paper for 5-10 minutes, till lightly browned.
Reviews
Most Helpful
So good! The cheese mixture in these is delicious. I didn't have fresh parsely so I used about 1/3 the amount of dried. Otherwise, followed the recipe as written. I will definately make these again. Thanks for sharing nemokitty! Made for Pick-A-Chef Fall 2011.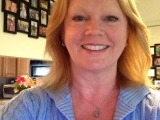 Have to agree with my pal Shuzbud on this one....there are just not enough stars!! This was totally delicious and really simple to whip up. Ideal finger food for any occasion...I served them up with drinks for friends and the plate cleared in seconds with a heap of yummy noises being uttered from full mouths. Thanks for fantastic recipe!! Made for 123 Hits.

There aren't enough stars here for this recipe- I adored it! It's perfect for festive gatherings as it can be a finger food/ appetiser/ buffet dish/ side dish etc. I must admit I added an extra garlic clove to the cheese mixture to boost the garlic flavour as I like it strong! These have a lovely slightly crunchy texture in the topping- next time I'll add breadcrumbs on top to make it even crunchier! Thanks for a new favourite recipe!