Cheese-Stuffed Chicken Breasts
Bergy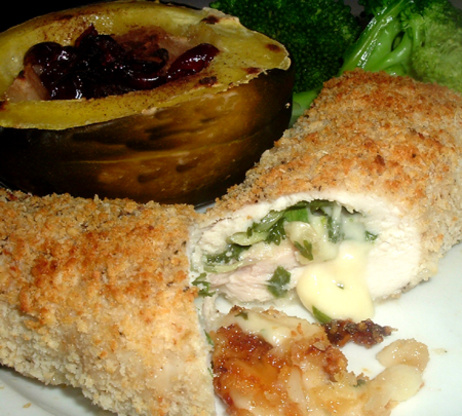 This one is just great. I found it looking for differnt stuff to make. Add some ham and you've got Cordon Blue. Recipe Source: Crisco http://crisco.com/scripts/display_recipe.asp?recipe_nbr=29610
Preheat oven to 375ºF.
In small mixing bowl combine green onion, parsley flakes, salt, pepper and garlic powder.
Set aside.
Place one piece of cheese in center of each chicken breast.
Top with one-fourth of onion mixture. Starting at narrow edge, roll each breast tightly, tucking in sides to enclose cheese and onion mixture.
Dredge with flour.
In small bowl combine breadcrumbs, Parmesan cheese, salt and pepper.
Dip each rolled breast in beaten egg, then in crumb mixture to coat.
Spray a 9 x 9 x 2-inch pan with Crisco No Stick Cooking Spray.
Generously spray each of coated breasts with Crisco No Stick Cooking Spray and arrange in pan.
Bake for 30 to 35 minutes, or until golden brown.