Cheese Stuffed Bacon Meatballs (Aaron Mccargo, Jr.)
vrvrvr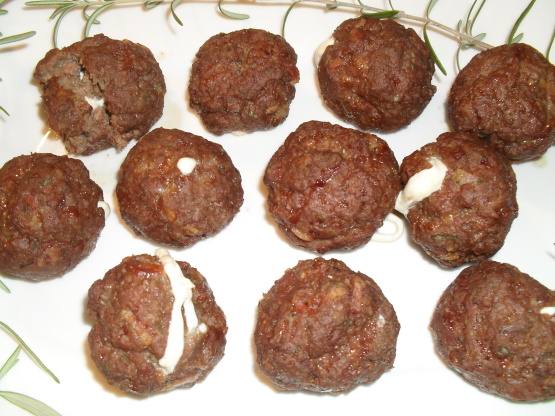 Yummy meatballs from Foodnetwork's "Big Daddy's House" - These are really really yummy. The recipe calls for applewood smoked bacon but my grocery store didn't have that so I substituted with regular bacon.

This was a fun idea to change up traditional meat balls. The amount of pepper really killed the flavor, though. In the future I would 1/4 or even omit the pepper because of how over powering it was. Another note is that I didn't have the cheese balls, but I did mix some shredded mozzarella into the meat and it worked just fine.
Preheat the oven to 400 degrees F.
Arrange the bacon slices on a sheet pan. Put in the oven and bake until crisp, about 8 to 10 minutes. Remove the bacon from the pan to a cutting board and chop. Set aside.
In a large bowl, mix together the beef, Worcestershire, onion soup mix, bread crumbs, black pepper, stock and the chopped bacon.
Form portions of the meat around the mozzarella to make smooth balls. Arrange the meatballs on a sheet pan with a rack and bake until thoroughly browned, about 10 to 15 minutes.
Serve with Pasta and Marinara Sauce.