Tona C.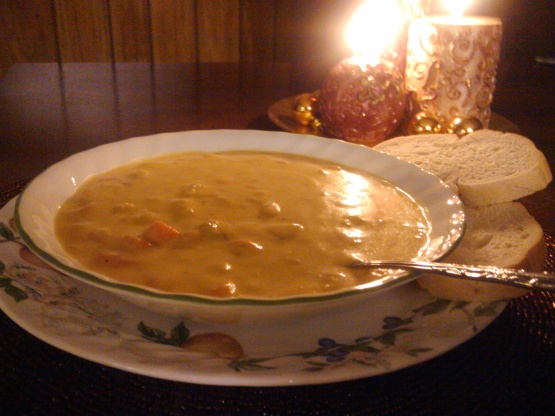 Don't throw away that leftover veggie tray. Try this delicious Cheese Soup recipe that came from my sister-in-law Michele Thornburg in Moberly, MO. I added some minced garlic, salt & pepper. Instead of using the frozen California Medley, I chopped up the broccoli, carrots, and cauliflower left from Thanksgiving. Serve with French or Sourdough Bread.

I love this soup! Thank you for sharing it with us. I have a 2 1/2 year old that is on the "cheese only" diet! :) This is a quick and easy way for me to get her to eat her veggies. The only thing I did different was i add in some carrots. Thanks-Stephanie
Cook above ingredients 20 minutes (until potatoes are al dente).
Add 1 package of California Mix (or 1 cup each of chopped broccoli, chopped carrots, and chopped cauliflower). Simmer for another 20 minutes.
Turn heat down as low as possible. Then add 2 cans Cream of Chicken soup, and 1 pound of Velveeta Cheese. Allow cheese to melt, stirring occasionally -- about 20 minutes longer. Continue to use low heat after adding soup and cheese. This can stick easily.