Rita1652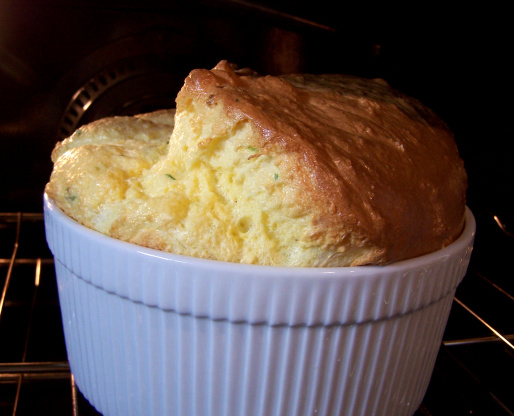 What a wonderful dish! Its easier then it sounds. I was a very very young cook when I made this for my family. My son, with his own family just recently asked me to make this again for him. My kids loved this dish.. and it really is simple to make.. The most important thing is your timing. It MUST be eaten as soon as it comes from the oven or it absolutely will fall!Enjoy! Delicious with a salad and dessert. MEMO: you do NOT grease your baking dish, or it will have nothing to cling to so it can climb. The directions in the book specifically said DO NOT GREASE!

Fantastic! I never made a souffle before and it came out perfect. I made them in individual ramekins with cheddar and baked them for 45 minutes. I'm so happy with them, thank you so much!!
Melt butter: blend in flour and seasonings.
Add milk all at once, and cook over medium heat, stirring til mixture thickens and bubbles. Remove from heat. Add cheese; stir til cheese melts.
Beat egg yolks til very thick and lemon colored.Slowly add cheese mixture, stirring constantly: cool slightly. Gradually pour over beaten egg whites, folding together thoroughly.
Pour into UNGREASED 1 1/2 quart souffle dish or casserole. for a top hat(it puffs up in the oven) trace a circle through mixture 1 inch from edge, and 1-inch deep.
To make a high souffle, measure wax paper, or parchment paper around your casserole, with one inch over lap. Fold it in thirds, lengthwise, and butter one side. Fasten the 'collar' around the top of your casserole so that it extends 2-inches above the top of our dish. After baking, remove the collar.
Bake in slow oven, 300° for 1 hour and 15 minutes, or til a knife comes out clean. IMMEDIATELY break apart into servings with 2 forks, and serve.