Cheese Soufflé Omelette (Coddled Eggs)
Sara 76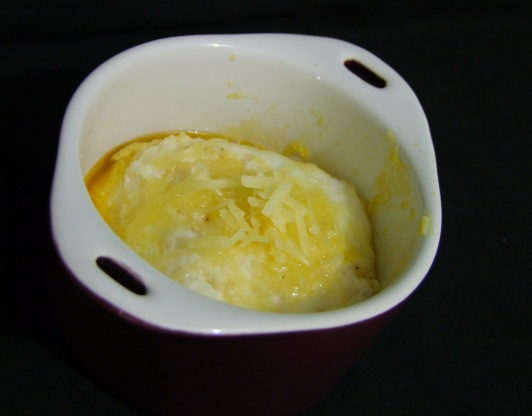 Included in a recent purchase of coddlers. I double mine, I never can eat just one!

I don't have an egg coddler, so I just made this in a ramekin, and placed that in a saucepan of hot water, and put the lid on the saucepan to cook the eggs. The results were great, and my son really loved his breakfast, thanks to this great little recipe! [Made for Aus/NZ Swap]
Place butter in egg coddler and place in a pan of hot water that comes halfway up the coddler. Beat egg white until stiff. In a separate small bowl beat egg yolk, add cheese and seasonings and fold mixture into the beaten egg whites. Feel free to add optional ingredients you might add in a regular omelette but keep the proportion small. Pour into egg coddler and screw on the lid. Place in simmering pan of water and cook for 15-20 minutes. Serve in coddler.