Cheese Sandwiches, Mountain Fashion
Sara 76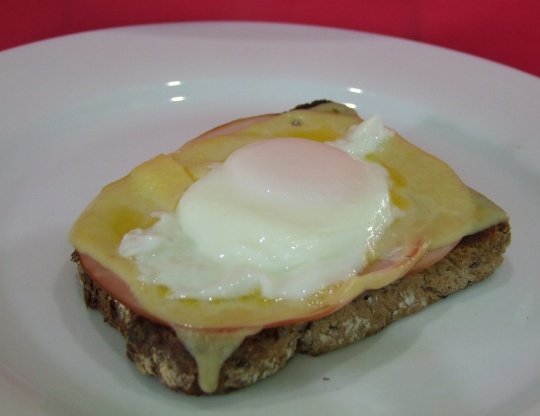 A flavorful ham should be used for this dish.

I made this for the kids and I for breakfast. I used a thick slice of multi grain bread in place of the white but other then that kept the recipe the same. I personally found it to be a bit to greasy for my liking...between the butter the bread was dipped in, the ham, and the oil from the cheese, it was just too much. Two of my girls deconstructed their toast and said they would prefer everything separate. I would like to try this again however; I think I will toast the bread and not add any butter. While the bread is toasting, I'll broil the ham then add it to the toast. While everything is still hot, top with cheese and the poached egg see if that helps cut down on the grease.
Saute the bread slices on both sides in heated butter. Place the bread on a baking sheet.
Top the bread slices with the ham, and then top ham with the cheese slices.
Bake in a preheated oven at 350 degrees for 10 to 15 minutes or until the cheese is melted.
Place a poached egg on the cheese and serve immediately.