lazyme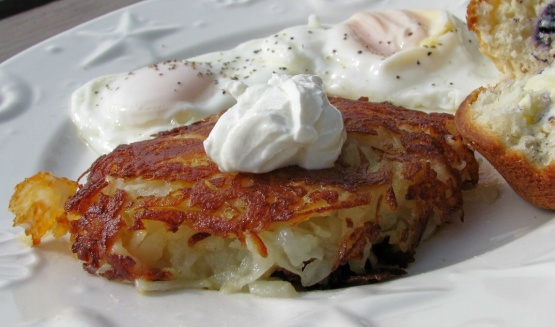 This delicious layered potato and cheese recipe comes from Basel, Switzerland. Enjoy!

Yum...potatoes and cheese! What's not to love? Stacking the layers made me worry the middle wouldn't be done and the outside would be too brown, but I lowered the cooking temp and it turned out beautiful. I grated some onion and minced some garlic and threw that in with the potatoes....sorry, I'm a southern girl! Made for ZWT7.
Bring a large pot of salted water to a boil. Add potatoes and cook until tender but still firm, about 15 minutes. Drain, and let cool.
Once cool, peel and grate potatoes.
Melt 3 tablespoons of butter in large nonstick skillet, add a layer of potatoes and a layer of cheese, sprinkle with salt and pepper.
Repeat layers.
Dot each layer with remaining butter.
Sprinkle 2 tablespoons hot water over the top layer, cover and saute at low to medium heat until bottom layer browns.
Turn with spatula and brown again.