Cheese Ravioli With Grape Tomatoes
Hadice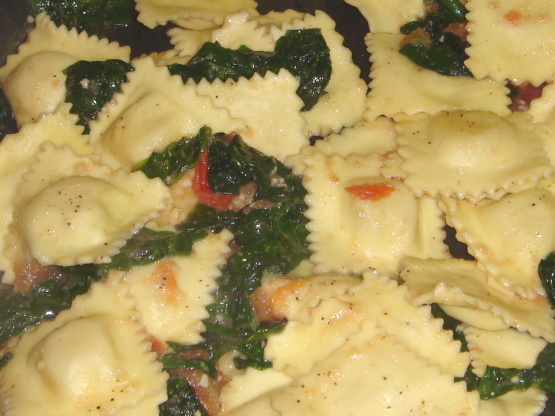 I got this from Vegetarian Times magazine. My husband went crazy over this and has requested it on numerous occasions. I highly reccommend using grape tomatoes. I have improvised but it never turned out as well.

Top Review by Ms B.
I used dried ravioli and amended the sauce recipe slightly. I sautéed onion and garlic in olive oil prior to adding the (halved) grape tomatoes. I let the tomatoes cook down and release some of their juices and added a splash of red wine along with salt and pepper. I added the spinach to this impromptu sauce just long enough to wilt, then stirred in the cooked and drained ravioli. Very simple, flavorful dish topped with fresh grated Parmesan cheese. I might not have been as happy without the addition of the garlic and real onions. My carnivore hubby didn't mind this meatless meal.
Add ravioli to a pot of boiling water.
Cook 3-5 minutes or until ravioli floats to the surface.
Remove from heat, drain and set aside.
Heat oil in a oversized skillet on medium heat, add spinach (make sure spinach is completely dry), tomatoes, onion powder, salt and pepper, and saute for about 7 minutes or until spinach and tomatoes wilt.
Add ravioli to skillet and cook for 3 more minutes.
Serve hot and sprinkle with parmesan cheese.