Cheese Potatoes (Poutine Precurser)
Heydarl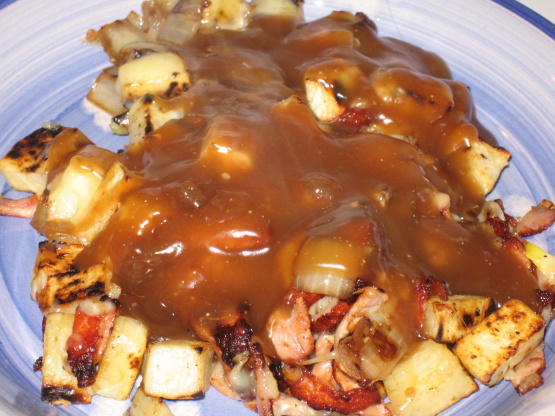 As a Canadian I adore poutine, our French fries smothered in curd cheese and gravy. I always wondered where it came from, and I suspect this French recipe from Laura Calder's French food at Home (FNC)is part of its historic roots. Wonderful dish, double or triple as you wish.

Haven't tried this yet, but thought I'd share what I've learned about the origins of Poutine. Bill Casselman's 'Canadian Food Words' has an entry on it, and I found a link: http://www.billcasselman.com/canadian_food_words/cfw_six.htm
Fry the bacon and remove to paper towel to drain.
Pour all but a tablespoon of the fat from the pan and add the butter to get hot.
Fry the onion until soft and golden, adding the garlic for a minute or two at the end.
Deglaze with a splash of balsamic vinegar, if you like. Remove all to a plate.
Add the oil to the pan to get hot.
Cook the potatoes, seasoned with salt and pepper, until soft inside when pierced with a fork, and very crisp and golden on the outside. This will take a good 20 minutes, without stirring too much or they won't get brown.
Return the onion, garlic, and bacon to the pan.
Scatter the cheese over the top and leave the pan on the heat, covered, until the cheese has melted, about a minute.
Serve with mixed salad greens.