flower7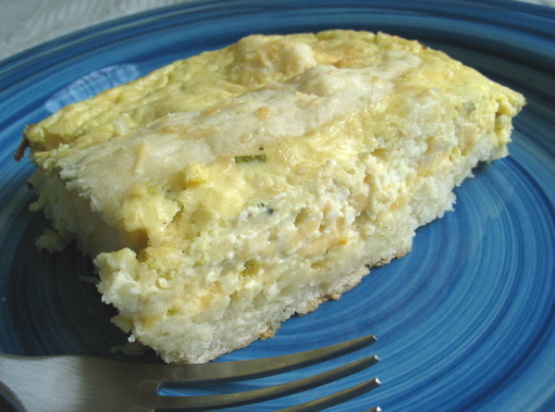 This is my grandmother's recipe which was past on to me by my mom.

The people in my department had a birthday party for me today, and this was my contribution. I made the crust and filling and refrigerated them separately overnight. I decided to leave the onions out, but will try this again with them. I also was nervous about the crust, but it turned out great. It did stick a little, but that was no big deal. Everyone loved it! Will definitely make again. Thanks for the posting, Mizzy!
prepare dough by mixing ingredients together by hand until well blended.
refrigerate until filling is ready.
Cook the green onion in the butter/margarine over low heat until just cooked, and let cool at room temperature.
place the cheeses, cream cheese, sour cream and milk in a food processor.
pulse until blended.
The mixture does not need to reach a totally creamy consistency.
Mix in 2- 3 eggs depending on how thick you want the filling to be.
Season to taste with salt and pepper.
flatten out 2/3 of the dough in a 9X13 inch pan, and preheat oven to 350.
Pour filling into pan over crust.
roll the remaining dough between your palms into strips and lay over the filling back and forth (make a lattice pattern).
Top with parmesan, sesame seeds and black pepper.
Bake for approximately 35-40 minutes, or until golden brown and slightly puffy.