Cheese, Pesto and Sun-Dried Tomato Torta
TigerJo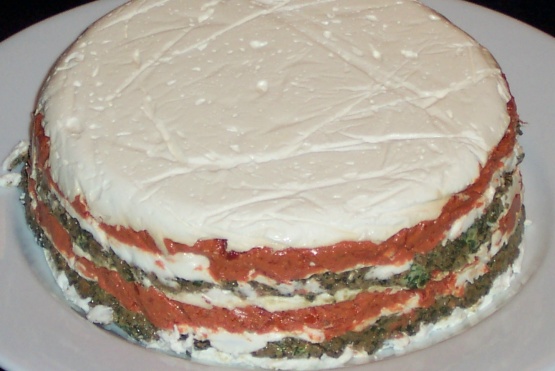 I make this for a potlucks or parties, so often I assemble a tiny one in a mini-loaf pan for the two of us. If there are any leftovers, they go great on bagels. I sometimes take small disposable containers so people can take some home with them. If you want to use pre-made pesto, 3/4-1 cup should be enough for this dish. I usually serve it with assorted crackers, but it goes well on toasted baguette slices and mini-bagels too. It takes awhile to assemble, but cooking time is simply chilling time.

I haver made this numerous times and even tried freezing a small bit to see what it would be like -freezes well. I leave out the nuts as my hubby has a nut allergy and it is still good! We love the rich garlic taste. I serve it with bread, crackers and cruditees. Thanks for a great quick and easy to make recipe!!
Finely chop garlic cloves in food processor; add basil, nuts, oil and lemon juice; Process until well blended; Add 1/3c cream cheese, all of parmesan cheese, and pulse until just blended; turn into a medium bowl and set aside.
Coarsely chop tomatoes in food processor; add tomato paste and blend until mixture is almost smooth; add 1/3c cream cheese and blend well; transfer to a small bowl and set aside.
In a large bowl, mix remaining softened cream cheese and butter until fluffy; season with salt and pepper.
Spray 6c straight sided dish (such as a souffle dish or springform pan) with non-stick pan spray, line with plastic wrap (I line pan with at least two layers of it) allowing wrap to drape over the sides.
Without worrying about keeping the layers perfect, spread 3/4c cream cheese/butter mixture evenly over prepared dish with a spoon dipped in hot water; top with half of the tomato mixture, then 1/2c of cream cheese mixture, then half the pesto mixture.
Repeat layering with 1/2c cream cheese mixture, remaining tomato mixture, 1/2c cream cheese mixture, remaining pesto, then remaining cream cheese mixture; Cover and chill 6hrs or overnight.
Invert torta onto serving platter, carefully peel away plastic wrap, and serve.