Cheese Only Crust Pizza (Low Carb)
Debbwl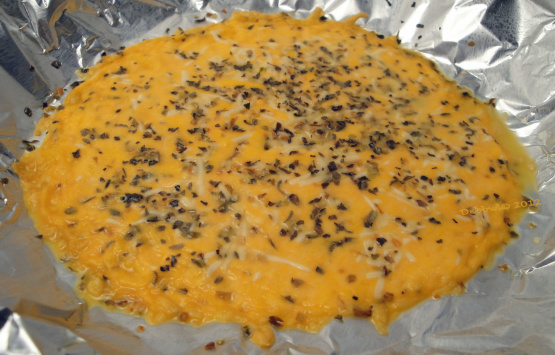 I found this recipe for pizza crust made from cheese on low carb friends. I have not made this yet, but it sure sparked my interest! Please if you do make this recipe, write an honest review and add your tips or tweaks! Enjoy! (prep time included freezing time.

Thank you for posting my recipe here. I was tired of the egg based recipes and I needed something similar to the van hardens pizza recipe, so I made up the recipe. I have made this many times and it tastes wonderful. You can hold it like a piece of pizza, and you dont have the eggy taste like you get with other lowcarb pizza recipes.
Spray pizza pan with non stick spray.
Blend cheeses and spread evenly over pan.
Sprinkle pizza seasoning over mixture.
Cook in 325 degree oven for 10 minutes until cheese is melted and lightly browned.
Remove from oven and place in freezer for 30 minutes.
Remove from freezer and top with your favorite pizza sauce and toppings. Cook at 350 degrees for 10 minutes or until cheese is melted.