Cheese & Onion Pull Apart Loaf
Kim127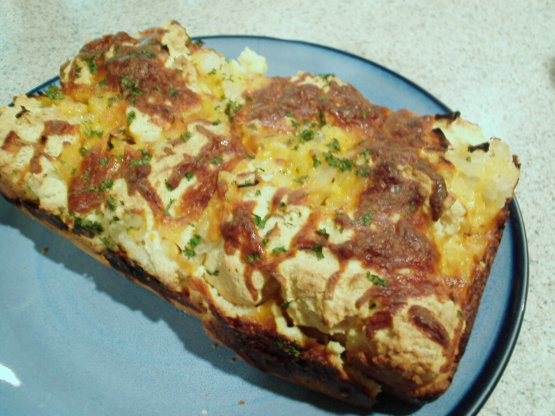 A scrumptious pull apart bread filled with onions, cheese and parsley, with a few yummy additional extras that can be added. See the Notes below. Great with winter soups or summer antipasto, dips and salads. Adapted from a recipe on the Simply Great Meals Club website, and saved here for safe-keeping until I have a chance to make it.

This was a very tasty way to serve bread. I had the same problem that other reviewers had, in that my dough was a bit sticky and was difficult to work with. Oh well, no major castrophe really, because I will make this again, experimenting to see what variety of cheese we prefer. Made for Zaar Stars tag game.
Place the frozen onions in a microwave safe bowl and heat in the microwave on high for 4 minutes.
Sift the flour and salt into a mixing bowl; add the butter and rub it in with your fingertips to resemble fine breadcrumbs.
Mix the egg, milk and mustard together; add them to the flour mixture and mix to form a soft dough.
Turn the dough out onto a well-floured surface and knead lightly; and then divide the mixture into approximately 14 uneven pieces.
Line a greased 14cm x 22cm loaf pan with baking paper; and place half the dough in pieces over the base.
Sprinkle with half of the onion, cheese and parsley; then cover it with the remaining dough and the remaining onion, cheese and parsley.
Bake the loaf in a preheated oven at 200°C /400°F for 40-45 minutes or until it is a rich golden brown.
Notes: This is best eaten hot straight from the oven. Add chopped kalamata olives or diced bacon with the onion for a tasty addition.