Cheese & Olive Bread for Appetizer
Chouny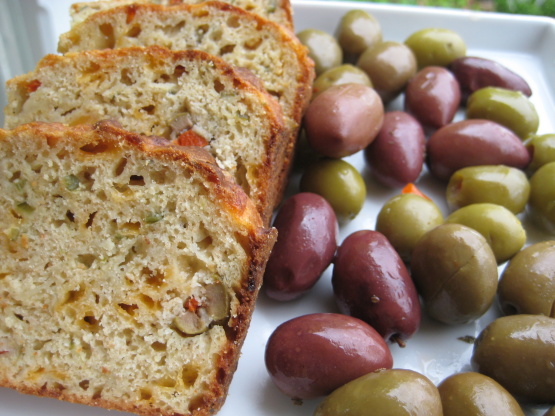 This bread is very easy to make, no yeast involved! It's more like making a savory cake. The saltiness of the olives and cheeses make it a perfect appetizer.

Can we say OMG!!!!!!!!! the only change I made was 1/2 green olives- half black...makes a great smoked ham swiss sandwich.. I even liked it lightly toasted!..this is seriously good!!!! thank you for sharing... gonna be making this often!
Preheat oven at 375.
Butter bread mold (approx. 6'' x 9'').
Melt olive oil, saute onions, green peppers until tender.
Sift together, flours, baking powder and salt, put aside.
Beat eggs, milk, mustard and sugar until well incorporated.
Add to the flour mix gently.
Add cheeses, sauted onions and green peppers, herbs, mix together.
Add olives and mix until well distributed.
Pour into buttered mold bake for approximately 40 minutes or until a toothpick comes out clean.
Slice into squares and serve with wine or cocktail.