3 Reviews
Can we say OMG!!!!!!!!! the only change I made was 1/2 green olives- half black...makes a great smoked ham swiss sandwich.. I even liked it lightly toasted!..this is seriously good!!!! thank you for sharing... gonna be making this often!

I've been planning to make this for a long time so I'm glad I finally got around to it. This bread is unique in flavor and texture. It slices BEAUTIFULLY! My family loves olives, so this pleased everyone. I served with Lemon Butter Barramundi and sauteed spinach. It made for a gourmet meal! I omitted the green pepper because I don't like them, and the green onion because I was lazy.

This was fabulous! It is very unique, but very easy to make. I use kalamata olives for the black and, for the green olives, I used some with lemon and garlic brine. This would be lovely at a dinner party, and would really impress your guest! Made for Fall PAC 2009.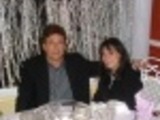 Cheese & Olive Bread for Appetizer