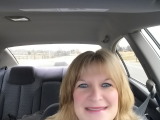 This is so good. Serve it with your favorite meat entree and a good glass of wine.
Directions
In large bowl, beat together eggs, broth, sour cream and mustard.
Stir in bread cubes, cheese and mushrooms.
Pour into greased 2 quart oval or 12x8x2 inch baking dish.
Cover; refrigerate overnight.
Uncover; bake at 350 degrees for 50 to 60 minutes or until set.
Let stand 5 to 10 minutes before serving.
Garnish as desired.
Most Helpful
I served this as a veggie dish for a dinner party. I love do ahead dishes. This was excellent, however, I think it would be best as a main dish for a brunch rather than a side dish. But it was good and the left overs will be great tonight.