Derf2440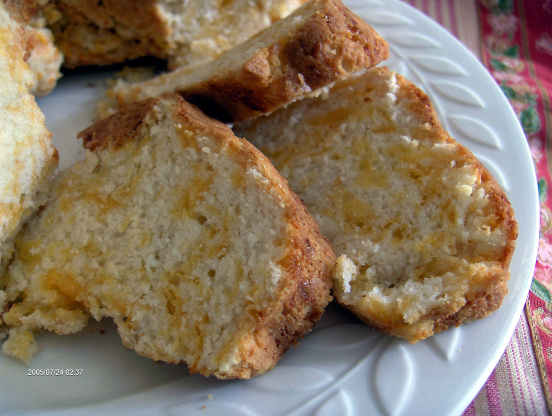 Moist, delicious and attractive and so easy to make. From Company's comming

Great recipe - very easy to make, and quite tasty! :) I didn't have any sharp cheddar, so I used medium this time, which made for a bit blander taste than I would prefer - next time I'll probably go for sharp cheddar, or maybe add a bit of cayenne pepper or something to spice it up. All in all, though, this is definitely something I'd make again. Thanks for the recipe, Derf!
Combine flour, baking powder, salt and cheese in large bowl.
Stir thoroughly.
Add milk and melted butter.
Stir to form soft dough.
Put in greased loaf pan 9 x 5 x 3 inch.
Bake in 400 degree oven for 35 to 40 minutes.
Remove from pan to cool.
Serve with butter.