ImPat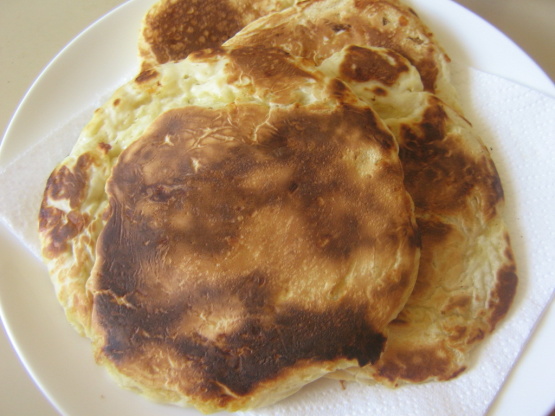 Serve these spread with butter, they are so yummy! I love these with scrambled eggs. I also add some chives to mine if I have some in the garden. These can be frozen also!

Top Review by ImPat
Made these for the DM and the DS for lunch and as they don't care for parmesan (can't understand why) I used a full cup of tasty cheese and got 4 10" thick delicious hotcakes (taste tested and little portion of the DM's). Next time I will make it as one big hotcake and cut into wedges, Thank you Tisme, made for Edition 8 - Make My Recipe.
Sift flour and castor sugar into a medium size bowl.
Stir in milk, egg and combined tasy cheese and parmesan cheese and mix well to combine.
Spoon tablespoons mixture in a heated greased pan, cook until bubbles appear on the suface of the hotcakes, turn and cook on the other side until lightly browned.
Using an egg slice, remove hot cakes from the pan, and place on a tray lined with absorbent paper. Repeat with remaining cheese mixture to make more hotcakes.
Serve spread with butter.