Cheese, Ham & Spinach Melt
DuChick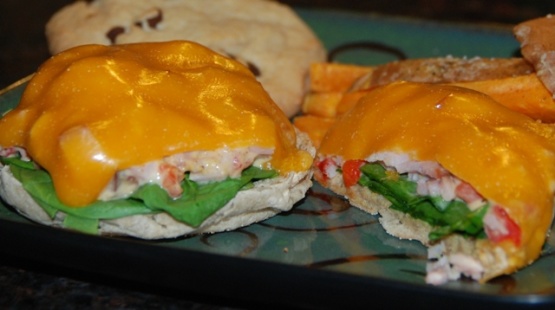 One of my favourite toasted sandwiches!

These little melts were very good! We were delighted with the combination of flavors. I wouldn't think of putting these ingredients together myself. I used cheddar cheese slices to top each since that's what I had at home. One thing I'll do next time is heat the ham filling since it didn't get warm in the oven. The muffin and cheese were heated, but the filling was cold. Thanks Mandy! Made and reviewed for Aussie Swap 5/'08.
Preheat grill or broiler to moderate.
Line a baking tray with baking paper.
Combine ham, capsicum, mayo & mustard in a bowl & season with black pepper.
Arrange spinach on toasted muffins, top with ham mixture, then cheese.
Place on prepared tray & grill for 1-2 mins or until cheese melts.