Peter J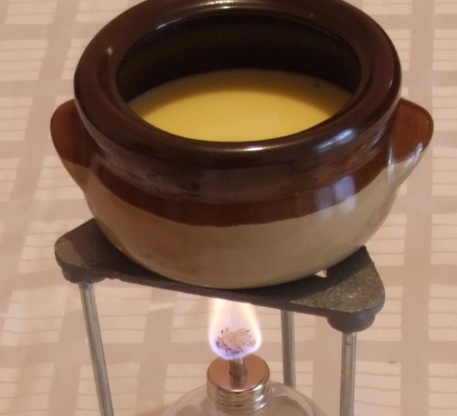 This is a great basic fondue recipe! A couple tips: instead of mixing the cornstarch in the kirsch, put it in a large plastic bag or tupperware container with the cheese and shake. This makes the melting of the cheese much less likely to ball up. If the melting cheese just isn't getting smooth, try adding a touch of lemon juice--the acid cuts the proteins and prevents balling (if this happens, next time use a drier, more acidic wine). Blanched veggies, such as cauliflower or carrots, are also good as dippers.
1

garlic clove, halved crosswise

354.88

ml dry white wine (preferably Swiss, such as Fendant)

14.79

ml cornstarch

9.85

ml kirsch

226.79

g emmenthaler cheese, coarsely grated (2 cups)

226.79

g gruyere, coarsely grated (2 cups)

Accompaniment

cubes French bread, on fondue forks or long wooden skewer
Rub inside of a 4-quart heavy pot with cut sides of garlic, then discard garlic.
Add wine to pot and bring just to a simmer over moderate heat.
Stir together cornstarch and kirsch in a cup.
Gradually add cheese to pot and cook, stirring constantly in a zigzag pattern (not a circular motion) to prevent cheese from balling up, until cheese is just melted and creamy (do not let boil).
Stir cornstarch mixture again and stir into fondue.
Bring fondue to a simmer and cook, stirring, until thickened, 5 to 8 minutes.
Transfer to fondue pot set over a flame and serve with bread for dipping.