alligirl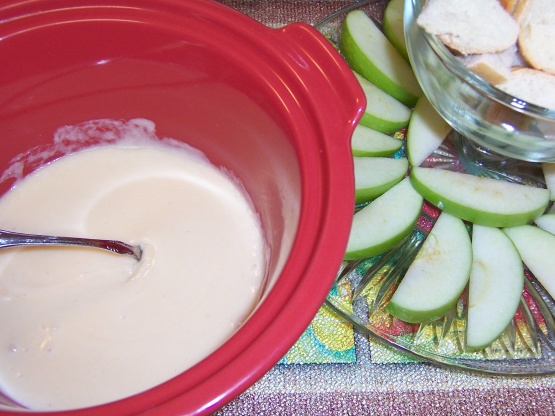 This is great served with chunks of bread. Some other suggestions are Granny Smith apples and blanched vegetables such as broccoli, cauliflower, carrots and asparagus. Spear with fondue forks or wooden skewers, dip, swirl and enjoy! Recipe from Tyler Florence.

This recipe was a cinch to make and awesome to boot! I halved the recipe, and followed as directed. I especially liked the hint of kirsch; I could taste it as an undertone, but, really puts it over the top! I served with crusty bread and granny smith slices for dipping. Thanks for sharing a great fondue, Lainey! I'll be making it again.
In small bowl, coat the cheeses with cornstarch and set aside.
Rub the inside of the ceramic fondue pot with the garlic, then discard.
Over medium heat, add the wine and lemon juice and bring to a gentle simmer.
Gradually stir the cheese into the simmering liquid.
Melting the cheese gradually encourages a smooth fondue.
Once smooth, stir in cherry brandy, mustard and nutmeg.
Arrange an assortment of bite-sized dipping foods on a lazy Susan around fondue pot and enjoy!