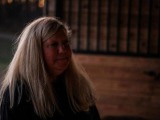 I prefer these vegetarian, but you can add the ground beef.
Make and share this Cheese Filled Peppers recipe from Food.com.
Directions
Preheat oven to 350 degrees.
Divide peppers in two, remove stem and seeds. Sprinkle the coarse salt on baking pan.
Mix meat, Tabasco, garlic salt, pepper, lemon juice, crumbs, and half of Jarlsberg cheese.
Divide evenly between the peppers.
Top the peppers with remainder of the cheese.
Melt butter, add garlic salt, and brush over the peppers.
Place on top of coarse salt on baking sheet, and bake in 350·F (175·C) oven about 35 minutes.
Reviews
Most Helpful
I cut this recipe in half, and went meatless like Jamilah's Kitchen. I also skipped the Tabasco sauce as my DH doesn't like any thing hot and spicy. With those changes we thought the peppers were to die for! Thanks for the great idea Andi! Made for the Diabetic Forum's Tail Gate Party 2011.

Lovely peppers! I cooked the ground beef mixture prior to stuffing the peppers and used ½ breadcrumbs and ½ panko. I doubled the Tabasco because we like a bit of heat :) Because I try to avoid as much sodium as possible, I subbed ¼ tsp garlic powder for the garlic salt and omitted the coarse salt in the baking pan. I also skipped the step with the butter and additional garlic salt and thought the flavor was great without those. Next time I would also add some parsley to the ground beef mix. Thanks for a great recipe Andi! Made for ZWT 6.

I went meatless with this and left out the beef. I used Red bell pepper and panko bread crumbs. Loved the lemon juice with the cheese. Thank you will try again with the Beef. Made for ZWT 6 for Looney Spoon Phoodies.