truebrit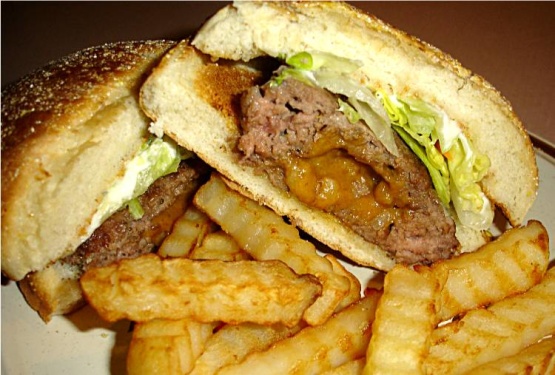 This is my adaptation of a recipie that came from a barbeque book many years ago. I can't remember the book, but I make these for nearly every barbeque we have (and we have a lot)

For some reason we didn't find these to have a lot of flavor. I followed the recipe exactly and used the cheddar and onion filling. I think the burger itself may have needed a little extra spice or maybe some BBQ sauce...sorry...
Mix the top five ingredients together in one bowl.
Mix the last two ingredients together in another bowl.
Form them into four balls.
Put a deep well into each of the four balls of meat, and place a ball of grated cheese and chopped onion into that well.
Carefully cover the cheese and onion with the meat,.
then carefully flatten the burgers, until they are about 1/2" thick.
Then put them in the freezer for approximately 1 hour before you cook them (this ensures they do not fall apart when you cook them).
Then cook them on the barbeque or in the frying pan.