2Bleu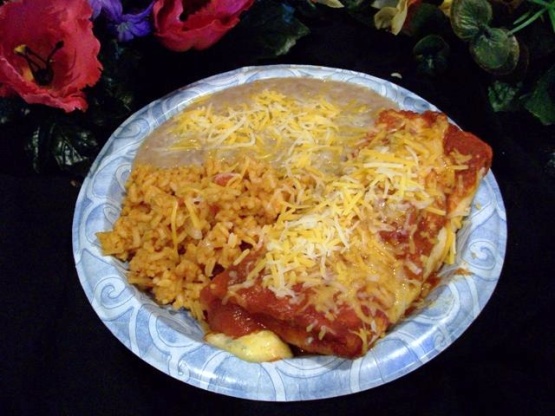 This is hands down my favorite meal. Based upon the consensus of the people I have made a minor change to the recipe by sauteeing the onions before putting in the cheese mixture to assist with cooking the onions thoroughly.

Oh my goodness, these were very tasty enchiladas. I had some sliced olives and jalapeno pepper leftover from another recipe, so I added it to the cheese topping. But otherwise I made this exactly as written. They were very easy to make, and I thought the seasoning amounts were just perfect for our taste buds. Thanks for sharing, Heidi in Seattle. Made for 2009 Zaar World Tour #5.
Preheat oven to 350 degrees.
In a medium saucepan combine tomato sauce, chili powder, oregano, cumin, and garlic. Cook until heated through, about ten minutes, stirring occasionally.
Meanwhile, place the onions in a skillet and cook until translucent. Remove from heat to cool slightly.
In a medium sized bowl, combine cheeses, sour cream, onion, parsley, and pepper.
Place 3/4 cup sauce on the bottom of a 13x9 dish.
Spoon 1/2 cup of cheese mixture into each of the 8 tortillas, roll, and place seam side down in dish.
Pour remaining sauce over tortillas. Bake for 20 minutes or until cheese has melted inside tortillas. Sprinkle with remaining 1/4 cup of shredded cheese.