Pismo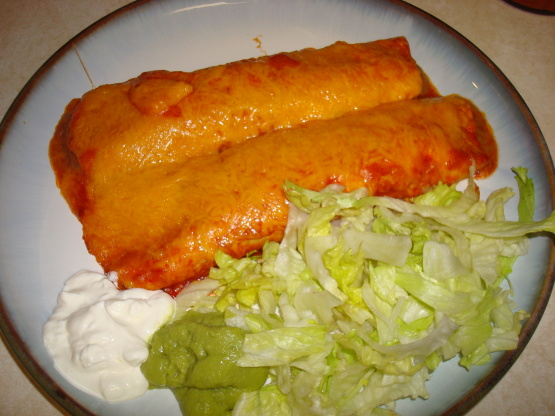 I love these cheese enchiladas. My mom has had this recipe forever. I'm sure you could add chicken or some other meat if you like, but I like these just the way they are!

This recipe was easy and mildly spiced so I was able to make it up for a party of 10. The only change is that I chose to not add salt and found the recipe excellent.
Over medium heat add pinto beans to skillet. Mash beans a little and add shortening and water. Simmer for 5 minutes.
Add salt, pepper, and onions and cook for another 5 minutes.
Add green chilies and 1/2 lb grated cheese. Mix well.
Spray 13x9x2" baking dish with cooking spray and pour 1 can enchilada sauce on bottom. Fill each tortilla with cheese/bean mixture, roll and place in dish.
Top with remaining can of enchilada sauce and 1 cup (or more!) grated cheese. Bake for 20 minutes at 350.