Parsley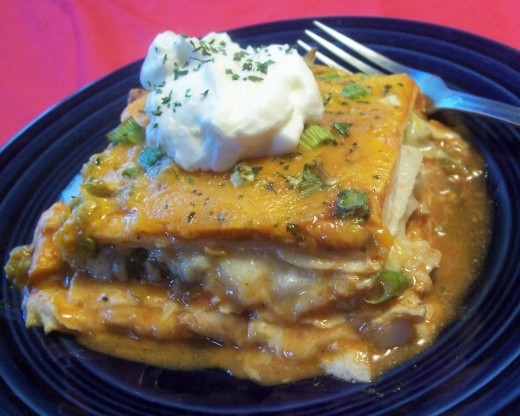 This recipe is good and fast. Served with salad it makes a great filling meal on a busy night.

This was SOOOO good! I'd give it five stars, but the original recipe needs some substantial tweaks... First of all, 12 corn tortillas would be too many. I would suggest going with a standard 10-pack of corn tortillas. Even that was more than necessary. 8 tortillas ought to do it if that's all you have. 12 ounces of cheese would be too much (and I'm from Wisconsin!), especially if you're topping this off with sour cream. Again, go with a standard supermarket size and just get an 8-ounce bag of your favorite shredded cheese. It will be the perfect amount. 15 ounces of enchilada sauce would be the perfect amount, but most good Mexican brands come in 12 ounces, or way more than that (I think 28.5 ounces). I made this with one 12-ounce can of enchilada sauce, and about 1/4 jar of leftover salsa. As for preparation, rather than doing layers of sauce, I would recommend dipping each of the tortilla sections in the enchilada sauce, so that they get completely "sauced;" otherwise your tortillas will be a little dry! Skip the green chiles; I can't imagine those working in this recipe. I would suggest adding a can of black beans and possibly a can of corn. I would also recommend a liberal sprinkling of a good Mexican hot sauce like Valentina, Bufalo or Cholula for added flavor... But the flavors you get from the canned goods ain't gonna do it. (Of course, you must have sour cream as garnish!) One more note... If you don't have an oven, simply put this in the microwave for 10 minutes as I did. It will turn out perfect either way! Thanks for a great base recipe!!
Preheat oven to 400 degrees.
Spray square 8x8 baking pan with pam (the garlic one is good).
Line pan with layer of corn tortillas.
Top with 1/3 sauce, cheese, chilis, and onions.
Top with second layer of tortillas.
Top with second layer of 1/3 sauce, cheese, chilis, and onions.
Top with final layer of tortillas.
End with final layer of 1/3 sauce, cheese, chilis, and onions.
Bake until bubbly (approximately 10-15 min.).
You can use green sauce and 2 cups cubed chicken.
Or black beans.
Or ground beef seasoned with taco mix.