Cheese & Chive Dumplings.
Coasty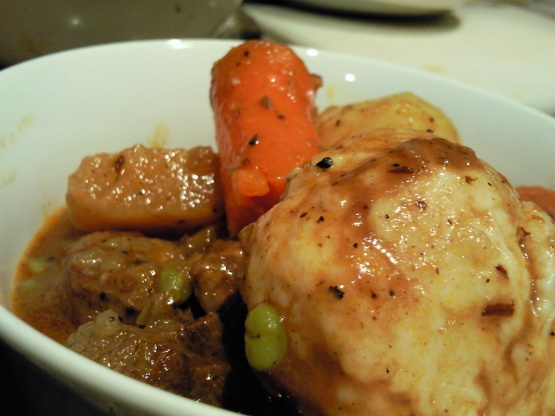 This recipe is to go with my Economical Beef Stew recipe but I have posted seperately as these are delicious enough to have with anything you thing they'll go with!! I think they're great in any stew or soups. These are inspired by something I saw a while ago on TV, cannot remember what exactly though sorry! This makes 12-15.
Delicious! I've made dumplings for stew before but for some reason (duh) never thought of adding cheese to them! Made them to go with your stew. Made for PAC Spring '12
Mix together flour, butter, baking powder & salt.
Use your hands to mix them and form large breadcrumbs.
Add grated cheese & the chopped chives and stir through with a fork.
Add the milk, little by little, mixing with a fork all the while. You might need a little less or a little more, depending on the flour. Be sure the mixture doesn't get too wet and sticky.
Now you need to roll the mix into a ball shape.
Place it in your stew & cook for 30 minutes.
**In general, a temperature of 150-190/320-360 or Gas Mark 4/5 should be used.