jkoch960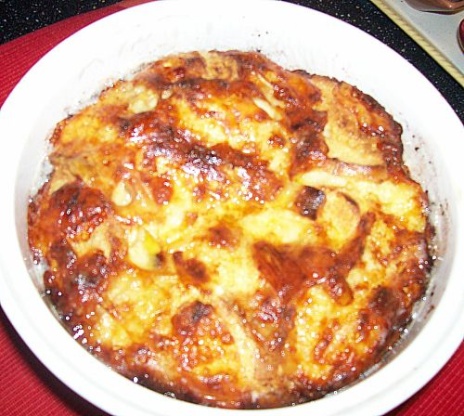 A french recipe from Elle magazine, a cheese pudding from the Alps. Great lunch served with a green salad and a glass (or 2!) of wine, delicious

MMMMmmmmmmmmmmmm! Totally loved this dish! I have not had a lot of experience with Gryere Cheese but found this to my liking a lot! And so easy to put together! It is just so creamy and gooey! I could have eaten the whole thing by myself! Thanks for sharing! Made for ZWT5 for Ali Baba Babes! Lindsey, on a side note, my sister (diner524) tells me you are from Scotland! I am so fascinated with Scotland! Our father's family is straight from Scotland. We are members of the Cameron Clan. I finally got to visit Scotland 2 years ago and fell in love!
Cut cheese into small thin slices.
thinly slice the bread.
butter a souffle dish(or similar ovenproof dish).
fill with alternate layers of bread and cheese.
Bring milk to boil, beat eggs and take milk off the heat.
Pour beaten egg slowly into milk, stirring constantly.
season with salt,pepper and nutmeg and pour over bread and cheese
leave to soak for 10 mins, occasionally loosening edges with a spatula.
dot surface with knobs of butter and cook in a hot oven 450F for 40 mins.