duonyte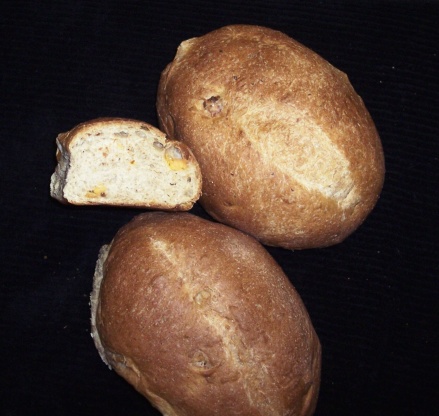 A nice basic recipe for a 1 lb cheese bread from the bread machine. The mustard and pepper give it a nice lingering mouth feel. I think it stands on its own much more than most bread machine recipes for cheese bread; I would love it if you tried this even if you've already tried other recipes of this kind. [This is adapted from a recipe in The Bread Bible (Rose Levy Berenbaum), which is an excellent book of bread recipes and theory.]

This made a very light loaf, with a great look - the cubes of cheddar cheeese did not melt. I did change it a little - I put in some shredded cheese at the beginning to add more cheese flavor to the loaf. I waited until the dough was kneaded in the machine, then kneaded in the cubes by hand. Also, I used scalded milk as I don't have powdered. Next I'll try this with munster cheese and German mustard.
FETA VARIATION: Instead of the cheddar cheese and cayenne, use 1/3 cup cubed feta and 1 tablespoon freshly ground black pepper.
Add the dough ingredients to your bread machine in the order suggested by your manufacturer. (Add the cayenne on top of the flour.).
Add the cheese to the extras dispenser of your machine. (If your machine doesn't have this feature, you may have to pay attention and add it after the initial rest.).
Set the machine for 1 lb/ white/ medium crust/ add extras.
I think this would be excellent with other cheese/pepper combinations. These are the only two I've tried. If you find another good varation - please post a review of it!