Satyne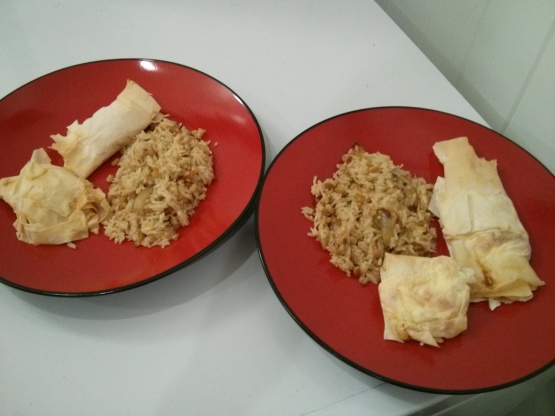 This recipe is from week 13 of my food blog, "Travel by Stove." I am attempting to cook one meal from every nation on Earth, and Armenia is my 13th stop. Cheese borags are a simple and delicious appetizer made from a mild white cheese (such as Monterey Jack or Muenster, or an Armenian cheese if you can find one) and phyllo dough. (This recipe comes from Robyn Kalajian from The Armenian Kitchen)
These are very good and remind me of Spanakopita, but without the spinach, of course. I was unsure of how to fold them, and was making quite a mess of it, until I did a little search on the internet. Seems they are more commonly called boregs or boeregs. Fold the phyllo LENGTHWISE then proceed to fold over into triangles. Made for My Food Odyssey.
Mix the three cheeses with the egg. Set aside.
Cover the phyllo dough with a piece of plastic wrap, then put a damp towel over the plastic wrap. This helps prevent drying.
Take one sheet of Phyllo and fold it in half. Brush the folded sheet with melted butter.
Put a spoonful of the filling onto the lower right corner of the sheet.
Now fold the sheet over the filling, from corner to corner, as if you were folding a flag. You should have a triangle. Fold again, and one more time. Trim off any excess dough.
Repeat until you have used all the filling.
Brush the top of each borag with melted butter, then bake at 350 degrees for 15 to 20 minutes, or until the borags turn a golden brown color. Serve hot.