Cheese Bites (Totally Addictive)
flower7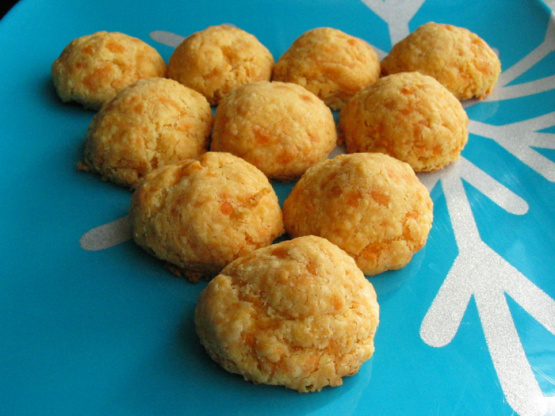 Ridiculously addictive appetizers. I brought them to a party and everyone attacked them like starving piranha on a cow. I included them in a tin of cookies for my hubby's co-workers and one of them ate all of them before anyone else could try them. She also demanded the recipe. From the cookbook "Fix, Freeze, Feast" by Katie Neville and Lindsey Tkacsik. Make them ahead of time, keep in your freezer and bake what you need. I plan to have these on hand all the time.

Made these for a big group and they were very popular. I split the recipe in half and there was plenty for everyone. Though initially skeptical of the olives, they turned out really well. The second time I made them, I quadrupled the cayenne pepper and they were nice and spicy. Also tried them with some jalapenos, which were good as well!
Combine cheese, butter, flour, salt, and cayenne in a large bowl: knead into a dough.
Roll dough into 1 inch balls and place on an un-greased baking sheet.
If using olives, form each ball around 1 olive.
If using pecans, press 1 pecan half onto each ball.
Can bake them right now (see instructions below) or freeze for later.
Place in trays in freezer for 30 minutes.
Remove from freezer and place in freezer bags or container.
Seal and freeze.
Can bake them straight from freezer.
Preheat oven to 425°F.
Place cheese balls 3 inches apart on an un-greased baking sheet.
Bake 15-17 minutes if frozen, 13-15 minutes if thawed.