Parsley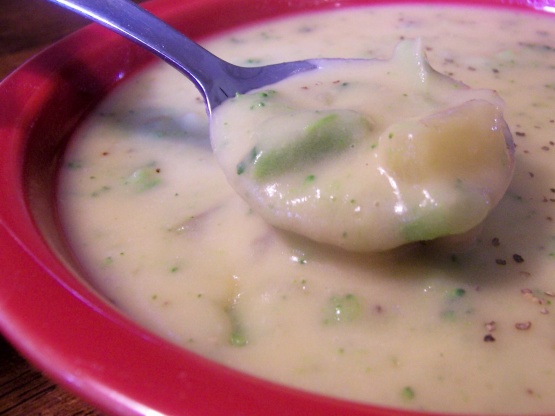 When my daughters were little they used to call broccoli trees, hence the name.
1

cup chopped onion
1 1⁄3 lbs potatoes, cut into 3/4-inch cubes
2 1⁄2 cups water

1

(10 ounce) packagefrozen, chopped broccoli, , , thawed and drained
1 1⁄2 cups shredded cheddar cheese
salt and pepper, to taste
In 2 to 3-quart saucepan over medium heat, melt butter.
Add onion; saute 5 minutes.
Add potatoes, water and bouillon cubes.
Bring to boil, reduce heat, cover and cook until potatoes are just tender, about 15 minutes.
Remove 1 cup of potato cubes with slotted spoon; set aside.
Pour contents of saucepan into container of electric blender.
Holding lid down tightly, blend until smooth; return to saucepan.
Alternately, blend with an immersion blender straight in the pot until smooth.
Mix in reserved potatoes and the broccoli.
Over medium-low heat gradually add cheese, stirring until heated through and cheese is completely melted.
Season with salt and pepper.