Cheese and Rosemary Breadsticks
KPD123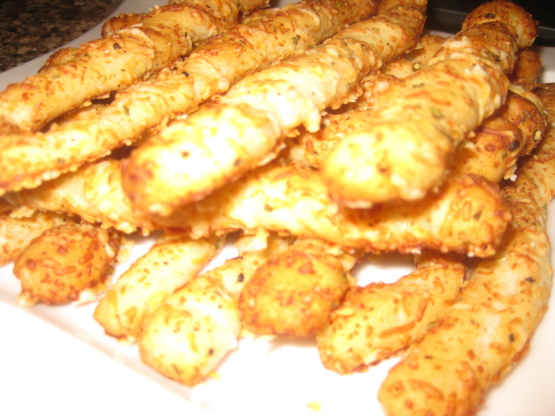 These are so tasty, yet they're so easy to put together! You can make these up ahead of time, store in the fridge and then bake when you're ready! This is my twist on another Giada recipe.
Chop the cheeses and rosemary together to mince and combine. Stir in pepper. Set aside.
Seperate breadstick dough and cut each breadstick in half lengthwise to form 2 long strips out of each breadstick.
Lightly brush each strip with olive oil.
Working with 1 piece at a time, coat each strip with cheese mixture and twist. Place breadstick on a baking sheet lined with foil and sprinkle with salt.
***At this point, you could cover with plastic wrap and refridgerate until ready to use.
Bake breadsticks at 350 degrees until golden brown, about 15 miutes.