WiGal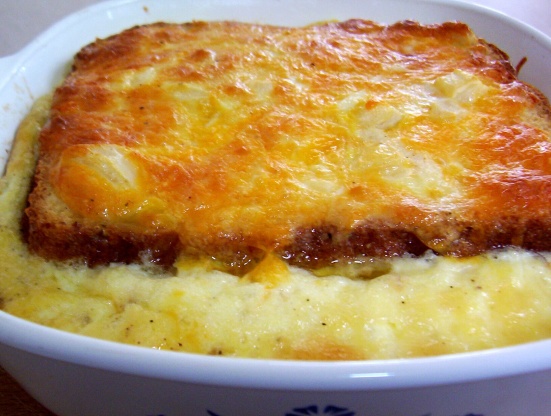 I used to make this all the time when I first learned to cook, as it's so easy and yummy. We just used to eat it served with some piping hot baked beans for a really cheap and filling meal.

This was a great side dish but I wanted a little more flavor. I think the bread you choose will make a big difference in this recipe. I used plain white bread. I think I might add some garlic next time. I halved the recipe and still had enough for 2-3 more servings. I baked this at 350 degrees for 30 minutes and I think I'll bake it another 5 or 10 minutes to get a good set on the eggs next time. This recipe has great potential for us. thanks for sharing. Made for PRMR :)
Spread most of the butter on the bread and use the rest to grease a 2.5 pint casserole dish.
Layer the bread, cheese and onion in the dish, finishing with a layer of cheese.
Whisk the eggs with the remaining ingredients. Add salt and pepper to your taste, then pour into the casserole and set aside for 10 minutes.
Bake in the top of a preheated oven, 200°C/Gas Mark 6 for about 30 minutes.