flower7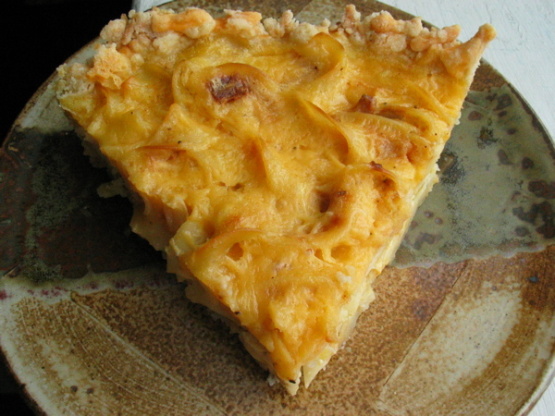 I got this recipe about 20 years ago, from a girl I used to work with. She'd bring it in to work and share with all of us. It was really good and we all asked her for the recipe. Here it is. Sometimes when I make this, I add 1/4 teaspoon of chipotle powder to the custard mix for a little "zing".

Thank you so much!! I had this recipe for over 30 years but I lost it when we moved. I thought I remembered it but it didn't seem quite right. Now I've found it here and realize I was using 1 too many eggs. It's a great recipe and every time I've made it for people they've loved it. It must be good to stand the test of time like this!
Sift the flour, salt and dry mustard into a bowl. Stir in the melted butter and 1 cup of the grated cheddar, mixing thoroughly. Press evenly over bottom and up the sides of a 9" deep pie plate.
Saute the onion in 2 tablespoons of butter until soft and transparent. Add the noodles and combine. Toss and spread in the cheese crust.
Beat the eggs. Add milk, salt, pepper and remaining 1 cup of cheese. Pour over the noodles.
Bake in a preheated 325* oven for 35-40 minutes, or until custard is set.
If desired, you can sprinkle additional grated cheddar over the top of the pie, 5 minutes before it is finished baking (really good!).