Cheese and Mushroom-Stuffed Meatloaf
Boomette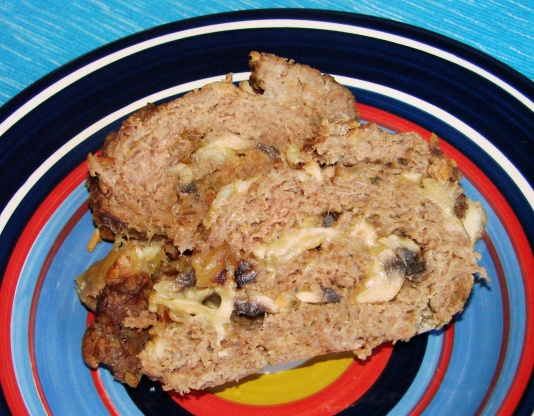 My family's favourite meatloaf (OK, sometimes my little one picks out the mushrooms). This one is really good.

Top Review by Pamela
February 20, 2004...I made this recipe after it was recommended in the "talk" threads because I was searching for ways to use up mushrooms. I think I had the same problem as CoolMonday, as my roll started to come apart during baking. Next time I will make sure it is thicker. After I made this and baked it, I froze it in a ziploc bag for a later date (I Love Once A Month Cooking) but I think next time I will serve it thae day it was made as it seemed to dry out a bit after being reheated. My parents, who were over for dinner, really enjoyed this! *Update* I made this again, this time I froze it unbaked and it worked perfectly. I also made a thicker roll this time and I did not have the same problems as last time. I baked it from frozen at 200 degrees for 3 hours and it was ready when we got home from church. Next time I will cover the top with foil as it got a bit dark. Thanks again Evelyn, your recipes are great!
Heat oil in skillet over medium heat.
Add onion and sauté until translucent, about 4 minutes.
Add garlic and mushrooms.
Cook until mushrooms are golden-brown and liquid evaporates, about 8-9 minutes.
Cool.
Preheat oven to 350 degrees F (175C).
Mix beef and everything else but cheese.
Turn out onto large square of plastic wrap.
Pat into 9 x 12 inch rectangle.
Spread mushroom filling over rectangle, leaving a ½ inch border on all sides.
Cover mushrooms with cheese.
Starting at one short end, roll up jelly roll fashion. Take time and lovingly pat it into a compact shape to fit into your loaf pan - this will ensure that it doesn't crack as it bakes.
Arrange seam side down in 9 x 5 inch loaf pan.
(Can be prepared up to 6 hours ahead. Cover and refrigerate) Bake until loaf shrinks from sides of pan and browns, about 1 hour.
Pour off any drippings.
Gently turn out loaf and let stand 10 minutes before slicing.