Sue C.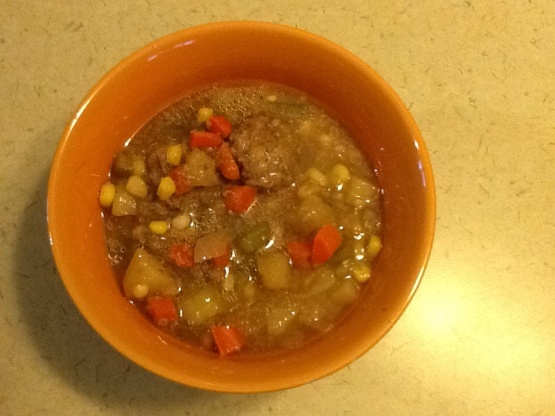 My family loves this soup.

My Mom has been making this soup for years and it is always a big hit with the family.She usually hosts an annual "soup and bread" party for church friends and family a week or so before Christmas. Every one one brings a favorite soup,homemade bread and desserts. We always have a great time and reading this recipe reminded of all that.Sometimes if I plan well enough ahead I substitute low sodium beef broth for the water and bouillon cubes.This lets you control the salt content and the cheese usually adds enough seasoning by itself.Thanks for sending me down memory lane MirandaLee!
Meatballs: mix ingredients together thoroughly.
Shape into medium size meatballs.
Place uncooked meatballs and all other ingredients, except Cheez Whiz, in electric slow cooker.
Stir gently.
Cover and cook on setting # 2 (low) for 8 to 10 hours.
Before serving add Cheez Whiz, stirring gently until well blended.