Cheese and Jalapeno Stuffed Chicken Breast
gailanng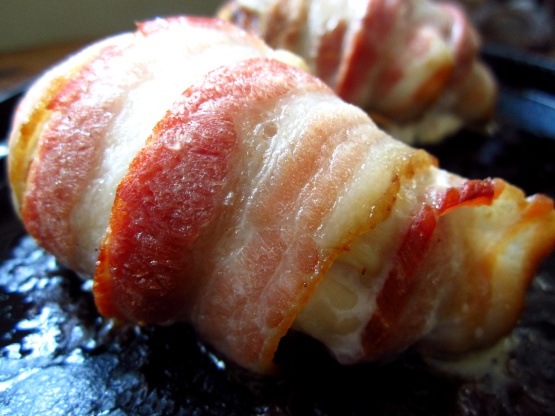 I love bacon jalapeño poppers and by adding the same ingredients to chicken breasts...you can have a whole meal with that jalapeño popper flavor. For less fat use low fat cheeses and center cut bacon.
pre-heat oven to 350 degrees.
grease baking dish.
cut a pouch in each chicken breast fillet, careful not to poke through
spread 1 Tbsp cream cheese in each pouch.
add 1/4 shredded cheese in each pouch.
add diced jalapeños to each pouch (more or less than 1/2 a jalapeño per chicken breast depending on your spice level preference)
sprinkle garlic salt, chili powder and pepper on top of fillets to taste.
wrap 2 pieces of bacon around each fillet
secure each bacon piece with 1 toothpick near the opening of the pouch to keep fillet together.
place in oven
bake for 30 minutes.