Cheese and Fruit Smoothie
CoffeeB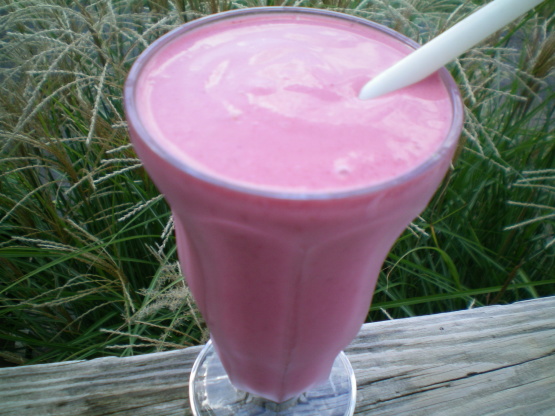 I had some cottage cheese I needed to use up so this smoothie was invented. You may use fresh fruit for this but you may need to add some ice cubes to make it thick. Note: It is not intended to be a sweet smoothie, so if it is not sweet enough feel free to add additional sugar or honey.

This was so creamy that it tasted like the ultimate decadent smoothie, but it wasn't: it was super-healthy! We're not really into anything being really sweet so, with the natural flavours of the fruits starring, for us this was a taste sensation, and a recipe I'll make again and again for breakfasts-on-the-run and take-to-work lunches. My only additions were a drop of vanilla and a small sprinkling of cinnamon. The only change I'll make when preparing it ahead is to not freeze the banana as it may well make the smoothie too watery. I may also add some wheat germ and some seeds and nuts. Even more nutrition and I love the textural variety they provide. Thank you so much for sharing this fabulous recipe, MsSally. Made for Every "DAY" Is A Holiday.
Blend all ingredients till smooth.
Enjoy.