Cheese and Chutney Turnover
Noo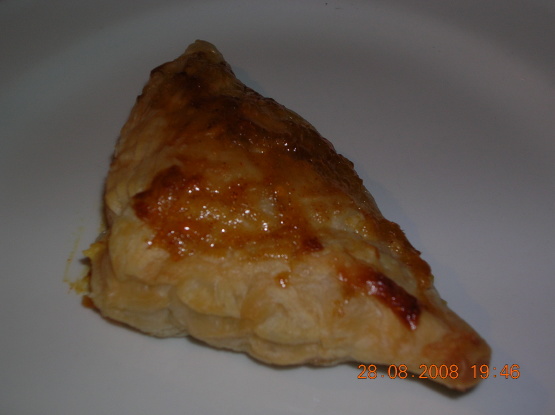 You can view a video of how to make this recipe at www.digitalcookbook.tv Another flavored chutney may be used but mango is preferred. I couldn't hear the sound on the video for this for some reason, so I've adapted the directions like I always do because the amount of chutney didn't seem to equal its use, so less chutney may be used origionally it was 5 tbsp. I will re-do them better when I can view or you may wanna try and view yourself.
Reserve two tbsp of chutney.
Mix cream cheese, cheese, scallions and curry power and 1 1/2 T of chutney. Place puff pastry on work surface, and cut each sheet into 12 equal squares.
Equally divide filling between the 24 squares in the center, top evenly with remaining chutney (not the reserved).
Put egg in a small bowl and beat.
Egg wash edges, fold over diagonally, and crimp.
Bake at 400° for 10 minutes, brush with reserved chutney, and bake for 6 minutes more.