Cheese and Chives Muffins With a Gooey Topping
Tisme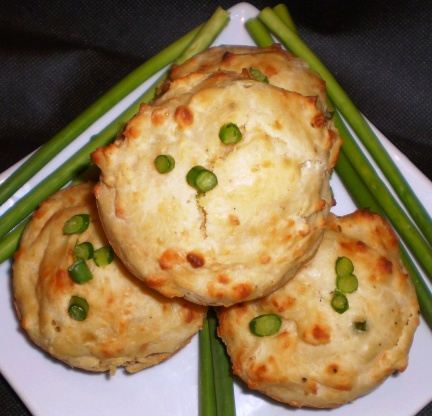 This unique and tasty muffin recipe is a great savoury twist on the popular muffin. It comes from Susanna Tee's book "1 Dough-100 Muffins". If you dont want to indulge too much, leave out the topping, the muffins are great without it, too.

Top Review by Tisme
Such an easy recipe.
I followed the recipe exactly using cheddar cheesem but I think Gouda would have been better for the topping as the topping wasn't as gooey as I thought it might be.
I loved these...really loved them, as did DH.
DD and DS thought they were nice .......hey but what do juvenile taste buds know...lol
I really liked these, I ate these with soup and just loved them.
Thanks Loula
In a big bowl combine flour, salt, pepper and baking powder.
Stir in chives and gouda cheese.
In a second bowl combine all the wet ingredients. Stir into the dry ingredients making sure not to overmix. The dough will be rather stiff.
In a third bowl combine the topping ingredients. It will look like a second muffin batter.
Fill the muffin batter into prepared muffin tins. Scoop a bit of the topping onto each muffin.
Bake in the preheated oven at 190°C/375°F for about 25 minutes. Muffins are ready when lightly golden on top and a toothpick inserted in the centre comes out clean.